FEATURED PROJECT:
Letterkenny General Hospital Pharmacy & MRI Suite
The Project involved the refurbishment and upgrading (including some demolition) of vacant ward space at Letterkenny General Hospital to Provide a new Pharmacy and a temporary MRI Unit. The works included the complete electrical infrastructural upgrading and alterations to the existing mechanical services together with finishes, fixture and fittings. The Pharmacy area consisted of refurbishment of corridors, large dispensary room, secure drugs control room, cold room, offices, staff rooms toilets and kitchen. Externally the walls were insulated and rendered and the roof was insulated and fitted with new trocal roofing.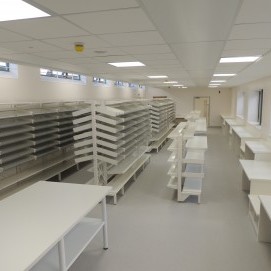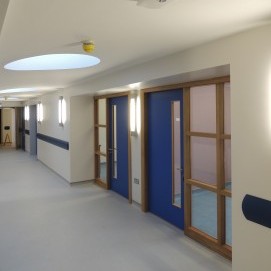 The MRI Suite ran concurrently with the Pharmacy works at a different location within the hospital. A new secure corridor was formed, partitions were replaced, full M&E Services were carried out, floor coverings and joinery work replaced in this fast tracked section of the works. All construction took place in a live acute hospital where other services and works were being completed. A large amount of coordination with HSE estates was required to complete this project within 5 months.
Other Notable Healthcare Projects:
| Title | Size | Year |
| --- | --- | --- |
| Sligo General Hospital, Renal Dialysis Unit | 1,100 m2 | 2006 |
| Carndonagh Community Hospital, Extension and Alteration | 150 m2 | 2005 |
| St Patricks Hospital, Carrick on Shannon | 170 m2 | 2005 |
| Letterkenny General Hospital, Echo Cardiograph Unit | 165 m2 | 2004 |
| HSE Health Centre, Stranorlar | 810 m2 | 2000 |