FEATURED PROJECT:
Seaquest Engineering Manufacturing Facility, Killybegs
This project involved the fast-track construction of a new factory for this succesful expanding business which manufactures fish pumps.  The development consisted of the construction of a manufacturing workshop including offices (circa.3,400 sq. m.), detached paint shop, esb room and associated site works. A new main entrance to the site was made from the Industrial Road. The main factory comprised of fabrication area with overhead gantry crane, machinery assembly area with gantry crane which also included significantly complex concrete works for the base of large boring machine.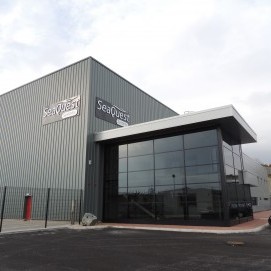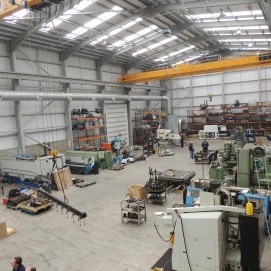 FEATURED PROJECT:
IDA Advanced Office & Industrial Facility, Letterkenny
We were contracted by the IDA to design, build and finance this 2,400m2 advanced office and industrial facility within an IDA business and technology park. The project is designed and constructed to a very high architectural standard achieving the modernity and functionality envisaged at conception stage. The building maximises natural daylight through the use of high-performance glazing and roof lights. An exposed concrete feature stairs with seamless glass balustrade was provided adjacent to a feature board marked exposed concrete wall in the entrance lobby. The structural steel cantilevered upper floor is clad in insulated render, with the lower floor clad with local natural stone. Extensive car parking, hard and soft landscaping extending to almost 3,550m2.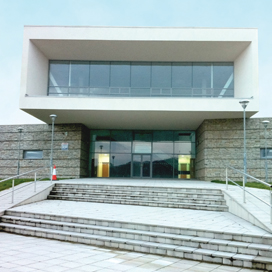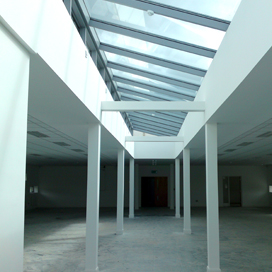 Other Notable Industrial Projects:
| Title | Size | Year |
| --- | --- | --- |
| SMTC Factory, Gweedore | 4,100m2 | 2008 |
| Unit 5, Falcarragh Industrial Estate | 3,200m2 | 2006 |
| Killybegs  Fisheries Harbour Development | 3,400m2 | 2003 |
| Fintown Industrial Estate & Craft Units | 2,000m2 | 2003 |
| RAP Factory, Gweedore | 3,000m2 | 2001 |
| Snath Comer Factory, Bunbeg | 10,000m2 | 2000 |
| McNutt's Factory Redevelopment, Downings | 2,000m2 | 2000 |
| Fruit of the Loom, Dungloe | 6,000m2 | 1996 |
| Unit 19, Bunbeg Industrial Estate | 2,150m2 | 1992 |